Money Counting Machine

Bill Counting Machine

Compact Note Counter N-Series
Notes are counted accurately at a high speed of 1,700 banknotes per minute, increasing the efficiency of your operation.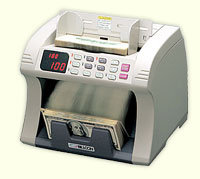 N-Series

Size of Note

Length 55~97 mm

Width 110~192 mm

Count Speed

1,700 banknotes-per-minute (Maximum)

Batch

Five preset batches (100, 50, 25, 20, 10) or Any number from 1-999 by ten key

Display

Count: 4 digits

Batch: 3 digits

Hopper Capacity

300 notes (500 notes with optional NOP-01)

Stacker Capacity

200 notes

Dimension

W280 x D260 x H220 mm (excluding hopper guide)

Weight

7.2 kg

Power Consumption

60W

Power Supply

AC 100/120V, AC 220/240V 50/60 Hz
The N-Series includes a standard type and a variety of special models with features such as infrared sensing, magnetic sensing, ultraviolet sensing, and length / with sensing. Choose the models which are best suited to your needs.
120

131

132

133

160

161

170

171

Size Detection (length)

●

●

●

●

●

●

●

●

Size Detection (width)

●

●

●

●

IR Detection (for specific currencies)

●

●

●

●

MG Detection

●

●

Wide MG Detection

●

●

UV Detection

●

●

●

●