Strapping Machine

Automatic Strapping Machine
Model:TP-101
Fully automatic strapping. Excellent for high production demands.
Foot switch is provided for convenient operation.
Optional table top sensing switch and or photo cell sensors allow for on-line integration.
Arch size
(Standard)
W850mm
H600mm
Table height
810mm
Strap width
9,12,15mm
Strapping speed
2 sec./Per Strap
Max. tension
80 KGs
Power supply
110,220,240,380V 50/60HZ 1 or 3 Phase
Machine dimensions
W1400mm, D590mm, H1500mm
Weight
180 KGs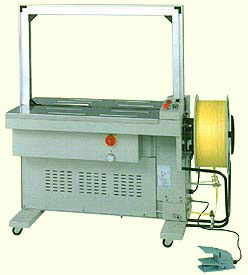 Model:TP-101PR
Powered roller table.
Automatic operation for automated package in-feed, strapping and out-feed.
Ideal for high production demands and unmanned automatic production lines.
Especially suited for strapping medium and heavy weight packages.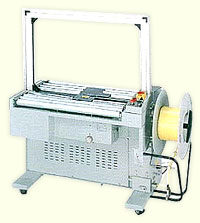 TP-101PR Automatic Strapping Machine for 2 straps per carton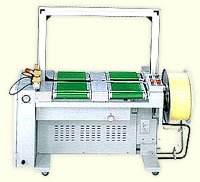 Model:TP-101PB
Similar to TP-101PR, except with powered conveyor belt feed.
Especially suited for strapping small packages.
Photoelectric cell controls strapping and feeding motion.
Model:TP-201
Front mounted arch allows for side strapping.
Automatic strapping for online package in-feed and out-feed operations.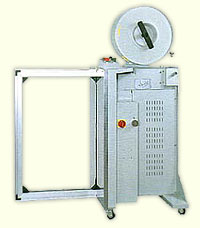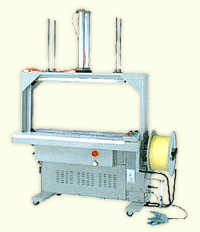 Model:TP-101AP
Suited for packaging non-compact products requiring compression before strapping.
Standard compression capacity is 30 kgs. Compression capacities other than standard are available upon request.
Maximum standard compression capacity to 30mm. Custom compression capacities available upon request.
Model:TZ-600
Power supply:Three phase,220V/50HZ, 220V/60HZ, 380V/50HZ (Single Phase Optional)
Power consumption:0.85KVA
Driving motor:Three motor, 1/4HP
Maximum tension:60Kgs
Strap joint:Heat sealed
Strap width:9, 12, 15mm
Strapping speed:2 sec./ strap
Strap coil size:∮200mm/∮ 280mm(optional)
Minimum package size:H30×W80MM
Standard arch:W600mm×H600mm